KFLG Country's New Artist Free Concert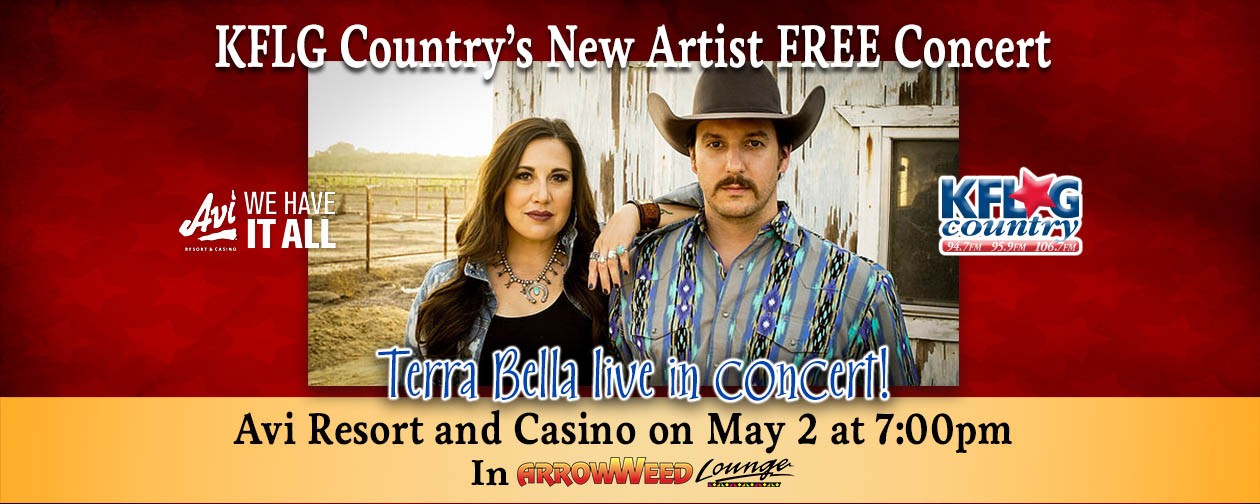 Thursday, May 2 | 7PM | ArrowWeed Lounge
Terra Bella - There's a Country Song
"It runs through my veins," said Joseph "Joe" Costa, one-half of country music's dynamic duo Terra Bella, to Billboard after the release of There's A Country
Song, their first full-length album released in May of 2018 featuring singles "Before You" and "Wild One". "Us being husband and wife is the biggest thing in
my life, but right under that is country music. "
Martina's emotional-charge and energetic delivery paired with Joe's perceptive songwriting and fluid guitar licks define Terra Bella's
authenticity—communicative story-telling with a Bakersfield edge, beautiful harmonies, and a test to time. Their shared passion and respect for country
music and the love held for each other is evident whether on or off the stage.
The release of There's A Country Song allowed Joe and Martina to reinvent their brand to more accurately represent their roots. With Garcia as co-producer
alongside Joe, the album comprised of nine songs came to life in the Costa's home studio and influenced their placement on Billboard's Country Artists to
Watch in 2018 list stating, "She [Martina] has the heartfelt quality of a Patty Loveless, while he [Joe] borrows from the Haggard/Jones school with an
emotional subtlety."
It is likely that Terra Bella is country music's next legendary powerhouse couple.
And now...KFLG Country is hosting our KFLG Country New Artist FREE concert in the ArrowWeed Lounge at The Avi Resort and
Casino on April 4 at 7:00pm.
No cover charge and great drinks and food! Come join KFLG Country's host, Craig Powers, to see the latest up and coming country artist on his way to the top!
Get there early. First come get best seats!