Start March Mania Off with a BBB Party on Tuesday, March 19 from 3PM - 6PM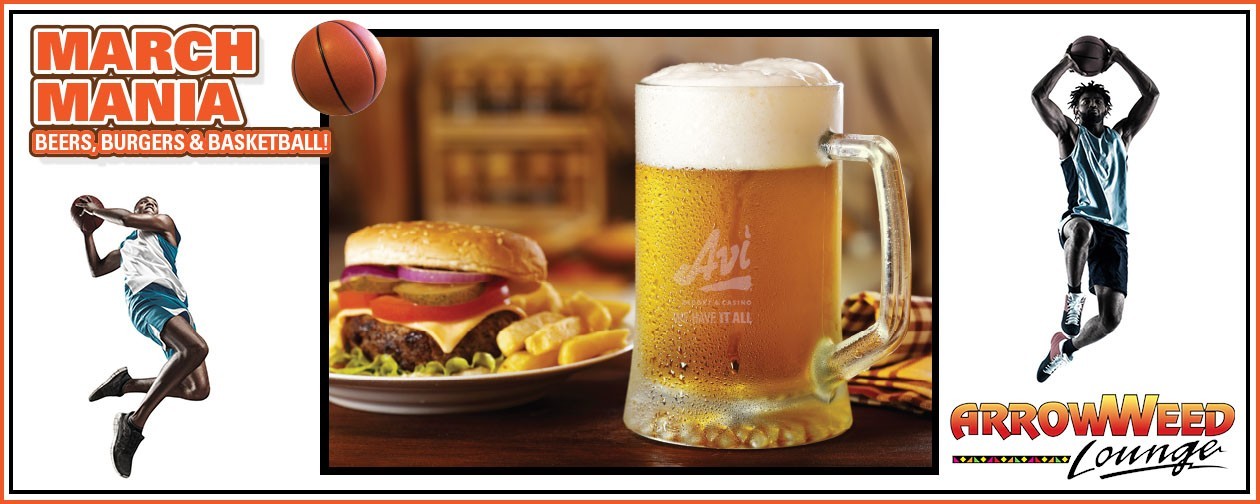 Tuesday, March 19th • 03:00PM
Beer, Burgers and Basketball Party
Tuesday, March 19 from 3PM - 6PM
Beers
Limited Edition Beer Stein
Beer Steins | $7 includes the draft beer of your choice
Refills Domestic | $3
Refills Craft | $4
Refills available at ArrowWeed Lounge, Road Runner and Whispers bar.
Refills will not be available on the floor or by cocktail service.
Burgers | Available 3PM - 9PM on Game Days
Specialty sliders will be available in ArrowWeed.
2 Sliders & 2 Finger Fries | $8.99
Cheeseburger Onion Ring Sliders
Jalapeno Popper Sliders
Mushroom and Swiss Slider
Ham and Cheese Slider
Chicken and Ham Hawaiian Sliders
Crab Cake Sliders
Basketball
ArrowWeed Lounge opens at 3PM game days.
Game Days
March 19 - 24
March 28 - 31
April 6 - 8 Finals
Must be 21 to participate. Avi Resort & Casino is not responsible for lost or stolen mugs. Management reserves all rights.