KFLG Country's New Artist Free Concert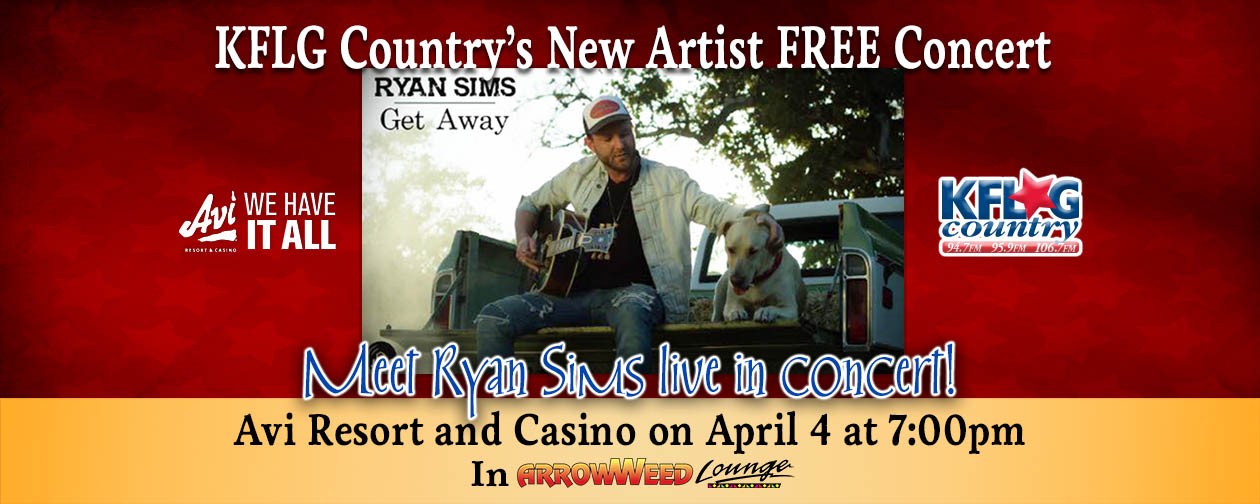 Thursday, April 4
ArrowWeed | 7PM
Ryan Sims – My Side Of The Story (Hive Records)
"I can't write a song based on fabricated situations. I have to write about what's going on with me at that moment." That's why his songs ring so true. His latest EP, My Side Of The Story, (Hive Records), recounts an actual love gone bad. No glitz or guile here, just rough -edged, hard-hitting songs, fed by a volatile blend of pain, ecstasy, anger and regret.
Ryan Sims crossed Canada, driving himself from show to show across vast prairies that afforded him time to think and to conceive a new batch of songs to record in early 2019. Sims cautions this upcoming project will be disarmingly candid and musically irresistible, just like My Side Of The Story and every Ryan Sims release we'll be privileged to hear. As for the year to come …
And now...KFLG Country is hosting our KFLG Country New Artist FREE concert in the ArrowWeed Lounge at The Avi Resort and
Casino on April 4 at 7:00pm.
No cover charge and great drinks and food! Come join KFLG Country's host, Craig Powers, to see the latest up and coming country artist on his way to the top!
Get there early. First come get best seats!